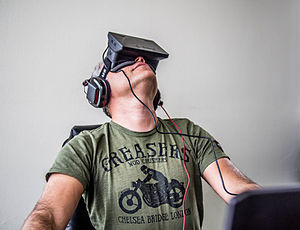 Sergey Orlovskiy using the developer kit version of the Oculus Rift (with separate headphones)
The Oculus Rift is a next-generation virtual reality headset designed for immersive gaming.
You could be part of history by getting your own Oculus Rift development kit.
This is part of the story where the magic started to happen.
Following the demonstration of the Oculus Rift prototype at E3 in June 2012, on 1 August 2012 the company announced a Kickstarter campaign to further develop the product.
Within four hours of the announcement, Oculus secured its intended amount of US $250,000, and in less than 36 hours, the campaign had surpassed $1 million in funding, eventually ending with $2,437,429.

On December 12, 2013, Marc Andreessen joined the company's board when his firm Andreessen Horowitz led the $75 million Series B venture funding.
Oculus VR has now raised US $91 million. The company was founded by Palmer Luckey and Scaleform co-founders Brendan Iribe and Michael Antonov, as well as Nate Mitchell. id Software co-founder John Carmack was later hired as its Chief Technology Officer.

Developer version
The Oculus developer kit was an initial version financed by a Kickstarter campaign. The campaign sought to get the initial Oculus Rift into the hands of developers to begin integration of the device into their games.

In August 2012, Oculus announced that the "dev kit" version of the Oculus Rift would be given as a reward to backers who pledged $300 or more on Kickstarter, with an expected shipping date set of December 2012. There was also a limited run of 100 unassembled Rift prototype kits for pledges over $275 that would ship a month earlier. Both versions were intended to include Doom 3 BFG Edition, but Rift support in the game was not ready, so to make up for it they included a choice of discount vouchers for either Steam or the Oculus store.[4] Dev kit preorders were made available for $300 on their website starting on 26 September 2012. These kits sold at a rate of 4–5 per minute for the first day, before slowing down throughout the week. These preorders were expected to start being delivered in "May 2013", but started arriving around March 30. Currently Oculus is accepting new developer kit orders on their website with a ship date in 3-5 business days.

Development
As a head-mounted display (HMD) designer at the University of Southern California Institute for Creative Technologies, Palmer Luckey earned a reputation for having the largest personal collection of HMDs in the world, and is a longtime moderator in Meant to be Seen (MTBS) 3D's discussion forums.

Through MTBS' forums, Palmer developed the idea of creating a new head mounted display that was both more effective than what is currently on the market, and inexpensive for gamers. Coincidentally, John Carmack had been doing his own research and happened upon Palmer's developments. After sampling an early unit, Carmack favored Luckey's prototype and just before the 2012 Electronic Entertainment Expo, id Software announced that their future updated version of Doom 3, which would be known as BFG Edition, would be compatible with head-mounted display units. During the convention, Carmack introduced a duct taped head-mounted display based on Palmer's Oculus Rift prototype, which ran Carmack's own software. The unit featured a high speed IMU and a 5.6-inch (14 cm) LCD display, visible via dual lenses that were positioned over the eyes to provide a 90 degrees horizontal and 110 degrees vertical stereoscopic 3D perspective.
Demos of the Oculus Rift featuring impressions and gameplay with both single images and stereo images have been broadcast on YouTube by a number of popular video game content providers. A home video entitled "My 90 year old grandmother tries the Oculus Rift" went viral with over 2 million views. Watch it here
The consumer version of the product is expected (but not confirmed) to become available in late 2014 or early 2015.