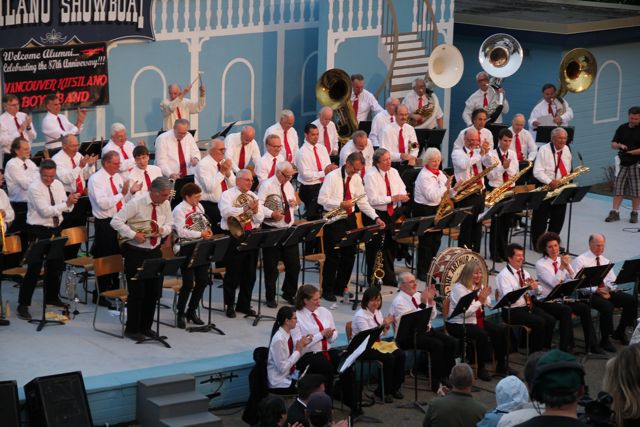 Everybody's toes were tapping to the big band tunes!
When you hear a big band like the Kitsilano Boys Band Alumni play "In the Mood" you just feel everyone smiling. You would have had a hard time keeping yourself from getting up to dance last Saturday at the Kits Showboat.
It's hard to believe the Showboat, a local institution, started in 1935 and is going stronger than ever today.
Celebrating 80 years in the community, this is a boat full of dreams come true for many aspiring artists and musicians. All the children practising their dance routines for their big moment were appearing on stage in a show before an audience.
All the time and money of generous benefactors and volunteers made it happen as it helped others to see their dreams come true. We need this in our world today more than ever before. All of these contributors are local heroes in their own way. Each of these angels put others first and together we all move ahead as a community. Hail to these Heroes!
These days as more people get absorbed by all the content and movies available at home, in the car, or on their phone, it's good to get out to the beach and see things that are not programmed and delivered by broadcast media to your brain.
The Kitsilano Showboat is free, with fresh sea air and a fabulous view in the background. You don't get that on TV.
So how do you tune into the Kits Showboat?
Get their schedule online to experience our local talent "Entertaining the World" here.
Be good to your community and donate to keep these programs alive and well by making your donation here today.
Showtime is 7 p.m. Mondays, Wednesdays, Fridays and Saturdays all summer until August 15th. Go and enjoy the music and some of Vancouver's best local shows on stage and across the water.
These are live events, and not always rebroadcast at a later date. Don't miss it, get on the boat today!