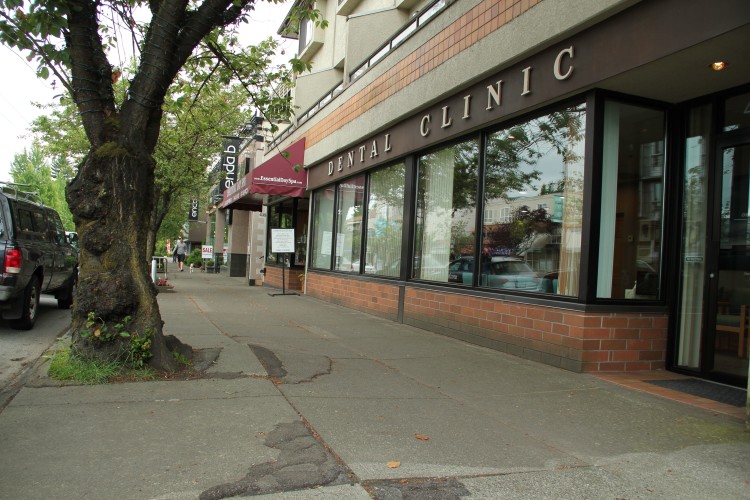 Dr. Michael Fung is the managing practioner at Dentists in Point Grey.
Their spacious office with big windows is easy to find and has lots of street parking available on West 10th Ave. This office is home to a friendly staff who will provide you with a personalized Dental Health Care Plan and make your visits comfortable and without pain.
Want to know who's on the team to keep your teeth and oral health in top condition and on track with your personal Dental Health Care Plan?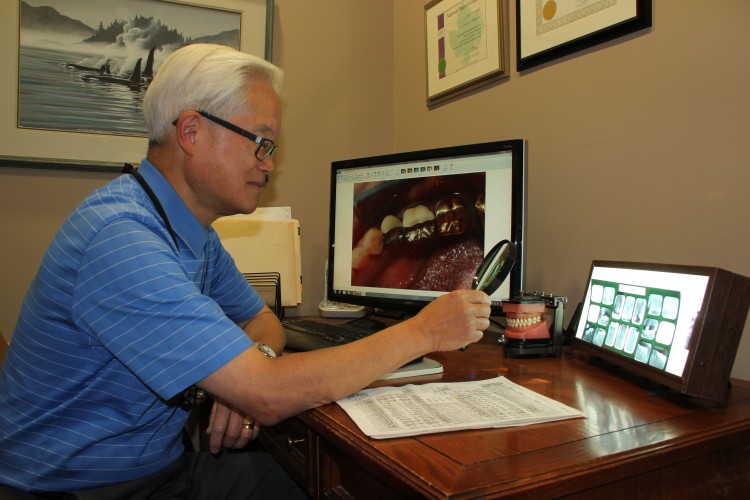 Dr. Michael Fung is a graduate of the Faculty of Dentistry, University of British Columba. He did considerable post graduate training with many notable prosthodontists including Dr. Richard V. Tucker and Dr. Peter K. Thomas. Dr. Fung is a Clinical Assistant Professor in the Integrated Care Clinic at the dental school at UBC. His responsibilities in the clinic include prosthodontic supervision, instructor training and hand-on teaching. He is a member of the Canadian Dental Association and has chaired the annual Vancouver and District Dental Society Mid Winter Clinic. Dr. Fung's philosophy of practice is to take a comprehensive view of his patients' oral health and offer conservative, long term esthetic solutions in a proactive manner. On a personal note, he enjoys his chosen profession and his enthusiasm is reflected in the office staff and the results for his patients. He is an avid golfer and fisherman and likes to combine golf with travel.
Pierette holds her residential care license. She also works in a periodontal specialty practice that ensures patients receive thorough attention to their hygiene needs.
Lim graduated from the Certified Dental Assistant Program in 1996 and then went on to pursue a career in Dental Hygiene. She graduated in 2004 and has worked in the dental profession for almost 20 years. Her career goal is to make the dental experience positive and help patients achieve optimal dental health. She loves meeting new people and trying new things. When she is not at work, she enjoys spending time with her husband and two children.
Jessica joined in the fall of 2012. She is the friendly voice you hear when you call the office.  She completed the Dental Coordinator/Radiology Program and was at the top of her class.  Jessica looks forward to greeting you when you walk into the office or when you call to schedule an appointment.  In her free time she enjoys knitting, hiking with her dog, archery and spending time with friends and family.
Corrinne completed the Certified Dental Assistant program in 1993 and has over twenty years experience in the dental profession and is knowledgeable about all facets of dentistry – including dental insurance plans and benefit eligibility. In her leisure time she enjoys landscape painting and going on expeditions for new materials; her artwork is collected internationally. She also enjoys photography, hiking and travel.
Mary-Ann teaches clinical dental hygiene at UBC in both the dental and dental hygiene departments. She has worked for Dr. Michael Fung for 16 years and has also worked in a periodontal practice for ten years. She is currently completing a Master's Degree in Health Education. Her combination of clinical experience and passion for continuing education ensures that every patient receives thorough attention to their hygiene needs.
Melissa is a CDA (Certified Dental Assistant)took the advice of her old dentist and turned her general interest in oral health & hygiene into an exciting career. She successfully finished the Certified Dental Assistant program at Vancouver Community College in 2006 and additionally, Melissa completed the Orthodontic module for CDAs at UBC in 2008. Melissa's now been there for eight years. She has great rapport with the patients and loves meeting new ones as well.  You can't miss her, she's got a great smile that you can see even behind her mask!
Contact their office for a consult or a second opinion on work required to give you the best dental health at a fair price.
Take the Dentists In Point Grey Video Tour > Click Here
Dentists In Point Grey • dentistsinpointgrey.ca
4358 West 10th Avenue, Vancouver, B.C. V6R 2H7 • (604) 228-9074
__________________________________________________