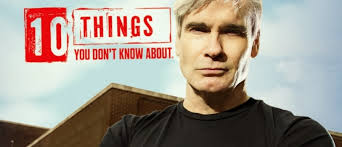 Henry Rollins is an actor and a singer, Henry is a very talented man.
He has also worked as a songwriter, radio DJ, spoken word artist, a journalist and publisher, comedian and an activist as well. His fame comes from playing all these different roles and excelling in them. He was born on 13th February 1961 in Washington, DC.
Henry's wealth primarily comes from the television, music industry and radio. He has performed with several bands like State of Alert, Black Flag and the Rollins Band, and has been the lead in many radio programs. His first radio program was "Harmony in My Head" that was aired on 19th May 2004. On television, he appeared on the show "Alternative Nation" in 1993 and "MTV Sports" in 1994. He has worked in many television shows like Welcome to Paradox, Unsolved Mysteries, VH1 Legend, Henry's Film Corner, Full Metal Challenge and many more.
During 1999 and 2000, Henry gave his voice to the character of "Mad Stan" in Batman Beyond and in the year 2009 to the character of "Trucker" in American Dad. Some of the movies where Henry can be seen performing include The Slog Movie, Black Flag Live, The Chase, Kiss Napoleon Goodbye, Feast, Green Lantern: Emerald Knights and more.
10 Things You Don't Know About > Henry Rollins
1. Henry wrote an autobiography – Get in the Van. He received the Grammy Award for this.
2. Henry is the son of Paul J. Garfield who is a PHD in Economics.
3. His mother Iris worked in the education and health sectors. Henry has worked as a human rights activist.
4. Birth Place Washington, D.C., U.S.
5. Height 1.75 m
6. Full Name Henry Lawrence Garfield
7. Nationality American
8. Date of Birth February 13, 1961
9. Occupation Musician, spoken word artist, comedian, actor, author, producer
10. Approximate net worth of $12 Million
> Source: http://www.therichest.com/celebnetworth/celeb/henry-rollins-net-worth/