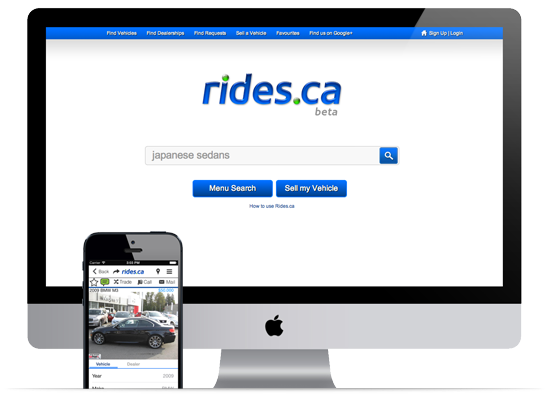 Access to the market for Canadian vehicle buyers and sellers has long been limited to an overpriced monopoly and a few free alternatives. A lack of customer service, and the online marketing sophistication of the US, has left the Canadian automotive market feeling a little out of gas. Rides.ca is here to take the road less travelled and turn it into an expressway, by providing users with the most advanced and direct route to purchasing and selling vehicles online. Rides.ca makes the online vehicle buying and selling process painless, trustworthy and "stick-simple".
The Rides.ca portal is search engine based, allowing the user experience to equal the familiarity and ease of navigation that is felt when searching the internet, a common practice in most homes today. Beyond being user friendly with comprehensive listings and detailed descriptions, Rides.ca offers an abundance of luxurious extra features, including advancements in communication, technology, and accessibility. Communication is in real time on Rides.ca. Find your vehicle of choice, IM chat the dealer, and begin the purchase process immediately, ensuring no missed opportunities for buyers or sellers! Technological advancements allow seamless integration of mobile devices. Rides.ca follows the buyer and seller from desktop to mobile phone to tablet. By offering all access to manufacturers, franchised and non-franchised dealerships, as well as to private sellers, Rides.ca can offer the buyer an ultimate showroom of vehicles in one online location.
The benefit to the dealership is that the information gained through Rides.ca allows them to analyze changing trends in the automotive market based on user interaction on the site, for example, the types of vehicles buyers are searching for in a specific area. The Rides.ca dealership dashboard is your dream car tearing down the autobahn! It is your complete leads and inventory management system, ongoing market research tool, and social media supercharged Hemi V8 engine in one convenient place, at a speed that makes any competitor seem like they are racing in reverse.
The goal of Rides.ca is to provide you with the most enhanced online user experience available in the automotive market today. Rides.ca is search engine based, a familiar environment that allows users to search by specific, general or even unusual terms to find the vehicles they want.
If you're looking for new or used vehicles, why not give www.rides.ca a test drive?