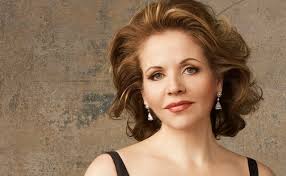 No one has ever performed the American Anthem before a larger world audience and nailed it like Grammy winner Renee Fleming. This was an incredible performance and the rockets did fly (so did the Blackhawk helicopters) over the first ever outdoor Superbowl in New Jersey, New York. In fact many people had worried that it might be too cold for Renee Fleming to sing. As it turns out, one of the latest in the football season, Superbowl #48 on Ground Hog Day was warmer in New Jersey than in either Seattle or Denver. The day is finally here and the 2014 Super Bowl will be played this evening (February 2). When the game starts and the National Anthem is sung, a question on many minds will probably be…
"Who is Renee Fleming?" Let us fill you in!
The 54-year-old opera singer is one of the most renowned performers in her industry. She can be heard on over 60 different recordings and she has 10 solo albums of her own. Last year, President Obama awarded Renee with the National Medal of Arts, America's highest honor for an individual artist. She is also the recipient of four Grammy Awards, most recently winning the prize for Best Classical Vocal Solo in 2013. "It's an enormous risk, again because of the spotlight," Renee said about performing at the Super Bowl during her press conference last week. "I really wanted to present it in a really serious way."
She sang the Star Spangled Banner like no one has ever attempted before and nail it before her biggest live and international audience ever!
BTW: The Ground Hog day census is; Seeing the shadow means six more weeks of winter. Oh Boy! Check out our messenger with the good news here!