STAND UP PADDLEBOARDING (SUP)
This sport combines surfing with kayaking or canoeing. Originating in Hawaii, where surf instructors of the 1960s stood on longboards to keep watch on their students, it gives you a fresh perspective of the water and lets you peer into the water beneath your feet. The upright position provides a full body workout, while the width of the board makes it is easy to balance, allowing you to enter the same meditative state you'd feel paddling glassy water in a canoe.
BOARD DESIGN
FLAT WATER SUPS
These all-around boards are crafted to explore lakes and other bodies of water where conditions are nice and serene. If you're new to SUP, this is the best way to get a taste of what it's like to stand on water. You'll get a core and leg workout from maintaining your balance on the board, and it's a great off-season training activity for skiers and snowboarders.
Flat water boards tend be larger (longer, wider, with higher volume). This makes them stable, but also harder to turn. They usually have a flat bottom, which again gives you a big, stable platform. The size of the board you choose will ultimately be based on your weight and experience on the water.
SURF SUPS
Surfing on a SUP is much easier to learn than surfing on a regular board, as you can use the paddle to balance and steer. It's a fun way to get into the sport, and many avid surfers use SUPs to stay in shape when the water's still or waves are weak. These boards usually run a little shorter and are more tapered than flat water boards, so they're more nimble in the waves. A shorter board usually suits lighter people and those with more advanced riding skills.
ROCKER
Rocker is the degree of upward curve from the nose to tail of the board when viewed from the side. Flat water SUPs have less rocker so they glide more efficiently over longer distances. A board with a lot of rocker lets you drive and turn the board more easily on a wave. Boards for surf and whitewater are generally more highly rockered for manoeuvrability, at the cost of some reduction in speed and tracking.
CARE
Most SUPs are constructed with EPS (expanded polystyrene) foam in the core. It's a light, shapeable material that doesn't soak up water. However, it will expand and contract when exposed to extreme heat or cold. To help your board last longer, don't keep it in the hot, hot sun. Store it in a cool, shaded place when you're not using it. Also, if you place your board with the traction surface facing the ground, then it won't be frying hot when you step on it.
ADDITIONAL GEAR
PFD
Unlike surfboards, SUPs are considered nautical vessels like kayaks or canoes. So, when you ride one in Canada, the Canadian Coast Guard requires that you have a PFD with you. You don't have to actually wear it, but it is to your benefit and safety if you do.
PADDLE
Your paddle should be taller than you are by about 10-20cm. You should be able to stand up tall and straight when using it. In general, a long, tapered blade will suit cruising in flat water, and a shorter, wider blade will work better in choppier conditions, where you may want to put in quick, short strokes.
Find more info and get the gear here: bit.ly/LbftKC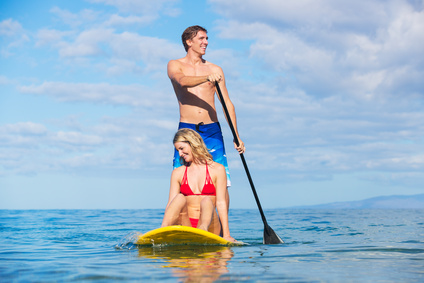 You Never Know Who You'll Meet On the Water…