You become the fashion institution… You earn it over 25 years! You keep up appearances and you breath that high altitude air. You have high property values and you can be found at the center of where it all happens. This what sets the stage for LEONE and the presentation of their world class retail fashion emporium in Vancouver. Occupying a heritage building that was a former bank, Leone's downtown store has prestige and character both inside and out.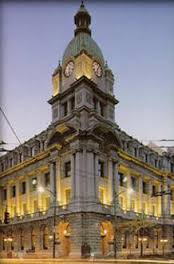 Original Building: Winch Building
Original Architect: Hooper & Watkins
Original Occupant of Leone Space: Bank
Designated: Federal Heritage Building
Leone Space: 25,000 sq. feet
Boutiques: 12 unique Boutiques
Brands: 50+ designer brands
Leone Timeline
1911: Original building build
1986: Sinclair centre opens
1987: Leone Opens
1995: L2Leone Opens
2012: Leone celebrates 25 Year Anniversary
LEONE is recognized as one of North America's premiere fashion retail destinations for designer fashions, shoes and accessories for both men and women. Located in Vancouver, BC (Canada), Leone encompasses over 25,000 square feet of exclusive fashions from the world's top designers.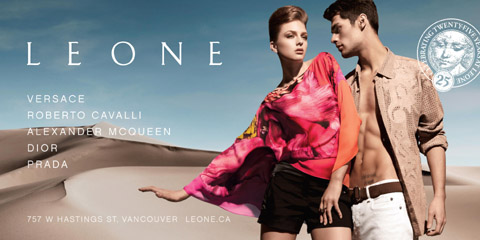 Leone is dedicated to providing an "all-inclusive shopping experience" with complimentary beverages and cappuccinos, in-house tailoring, valet parking and other shopping services. Shop in comfort as our knowledgeable staff provide personalized service in over 15 languages.
Valet parking
Highly experienced fashion consultants
Experienced tailors on premises
Private after hours shopping by appointment
 Hotel pickup + delivery
 Film industry wardrobe services available
 Complimentary cappuccinos
 Complimentary gift-wrapping
 Wheelchair accessible
 Languages: Japanese, Mandarin, Cantonese, German, French, Tagalog, Italian, Spanish, Russian, Korean, Farsi, Malay, Taiwanese, Vietnamese, Burmese and English.
 Cards Accepted: Visa, MasterCard, American Express, J.C.B., Diners Club and debit cards
 Currencies Accepted: Canadian Dollars, Japanese Yen, American Dollars and Travelers' cheques
Don't worry about bringing a recycled bag when shopping you shop here, they will gladly provide free bags (or complimentary gift-wrapping) when you shop here! It's Awesome. See more at their website: www.leone.ca/