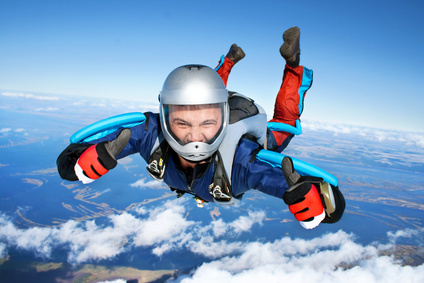 Skydivers reach terminal velocity (around 190 km/h (120 mph). 
How do you get your excitement?
For me, just getting on an airplane is exciting enough.
It would take an extreme emergency for me to jump out!
Hobby or Sport, Skydiving is one of the most exciting things you can do. It's probably a natural for most peoples' Bucket List of things to do before they die.
So why wait… maybe they can see what you're doing better from heaven? Either way I guess now with many blind and senior aged skydivers, we're running out of excuses. Unless you decide to pull the age card (perfectly fine to do so!) then just about everyone who is in the younger generation looks at it as a must-do more than a should-do (when I get around to it, if I'm not to old, once I get a note from my doctor) procrastination programs.
Some people keep their feet on the ground and play the odds of the lottery, this is enough excitement for them even if they don't win!
Others look to the clouds, mountain tops, tall buildings, antennae, spans and other elevations to execute highly technical BASE jumps that are mainly illegal to do.
Still others look beyond the clouds to the sky and take the jump, leap or dive of faith hoping their parachute will assist them in landing safely back to mother earth.
Parachuting, or skydiving, is the action sport of exiting an aircraft and returning to Earth with the aid of gravity, then slowing down during the last part of the descent by using a parachute (or other means – in 2012, British stuntman Gary Connery used a wing suit and a specially prepared box landing rig for this[1]). It may or may not involve a certain amount of free-fall, a time during which the parachute has not been deployed and the body gradually accelerates to terminal velocity. The history of skydiving starts with Andre-Jacques Garnerin who made successful descents using a canvas canopy and small basket, tethered beneath a hot-air balloon. The first intentional freefall jump with a ripcord-operated deployment is credited to Leslie Irvin in 1919 ; however, the stunt jumper Georgina "Tiny" Broadwick claimed to have made earlier freefall jumps simply by cutting her static-line and manually pulling the remaining cord-end after falling away from the aircraft. The military developed parachuting technology as a way to save aircrews from emergencies aboard balloons and aircraft in flight, and later as a way of delivering soldiers to the battlefield. Early competitions date back to the 1930s, and it became an international sport in 1952.
Parachuting is performed as a recreational activity and a competitive sport, as well as for the deployment of military personnel Airborne forces and occasionally forest firefighters.
A skydiving center can be a commercial operation or a club, usually operates at an airport, and provides one or more aircraft that takes groups of skydivers up for a fee. An individual jumper can go up in a light aircraft such as a Cessna 172 or Cessna 182. At busier drop zones (DZs) larger turbine-powered aircraft may be used: such as the Cessna 208, de Havilland Canada DHC-6 Twin Otter, GippsAero GA8 Airvan or Short SC.7 Skyvan.
A typical sport parachuting jump involves individuals exiting an aircraft (usually an airplane, but sometimes a helicopter or even the gondola of a balloon), at anywhere from 1,000 to 4,000 meters (3,000 to 13,000 feet) altitude. If jumping from a low altitude, the parachute is usually deployed immediately; however, at higher altitudes, the skydiver may free-fall for up to ~1 minute [2] deploying their main parachute, typically at an altitude of 1000m (~3,500 ft), and landing several minutes later.
After the parachute opens, the jumper can control the direction and speed with toggles on the end of steering lines that attach to the trailing edge of the parachute, and can aim for the landing site and come to a relatively gentle stop. All modern sport parachutes are self-inflating "ram-air" wings that provide control of speed and direction similar to the related paragliders. Purists in either sport would note that paragliders have much greater lift and range, but that parachutes are designed to absorb the stresses of deployment at relatively terminal velocity (~190 km/h).
By manipulating the shape of the body in freefall, a skydiver can generate turns, forward motion, backwards motion, and even lift (relative to other jumpers, not the ground).
When leaving an aircraft, for a few seconds a skydiver continues to travel forward as well as down, due to the momentum imparted by the aircraft's motion (known as "forward throw"). The perception of a change from horizontal to vertical flight is known as the "relative wind", or informally as "being on the hill". In freefall, skydivers generally do not experience a "falling" sensation because the resistance of the air to their body at speeds above about 80 km/h (50 mph) provides some feeling of weight and direction. At normal exit speeds for aircraft (approx. 140 km/h (90 mph)) there is little feeling of falling just after exit, but jumping from a relatively stationary balloon or helicopter can create this sensation. Skydivers reach terminal velocity (around 190 km/h (120 mph) for belly to Earth orientations, 240–320 km/h (150–200 mph) for head down orientations) and are no longer accelerating towards the ground. At this point the sensation is as of a forceful wind.
Many people make their first jump with an experienced and trained instructor – this type of skydive may be in the form of a tandem skydive. During the tandem jump the instructor is responsible for emergency procedures in the unlikely event that they will be needed, therefore freeing the student to concentrate on learning to skydive. Other training methods include static line, IAD (Instructor Assisted Deployment), and AFF (Accelerated Free fall) also known as Progressive Free-Fall (PFF) in Canada.
We should all feel lucky that there are people with over 40,000 jumps in their lifetime who are still loving every minute of it. This is a good sign of the progress the technology has made in only the last 100 years. Before 1920, I've heard stories of people with a parachute in a box in balloon. The parachutist would go up in the balloon and jump out with the box… next would be taking the parachute out of the box and getting it on in time for a safe landing rather than a splat on the ground. This all become easy when skydivers started to wear their parachutes as backpacks. That with the invention of the rip-cord and it started to get easier?
This would be the happy time for me (hopefully not seeing a busy city highway below) where I would begin to pucker-up and get ready to kiss Mother Earth hello!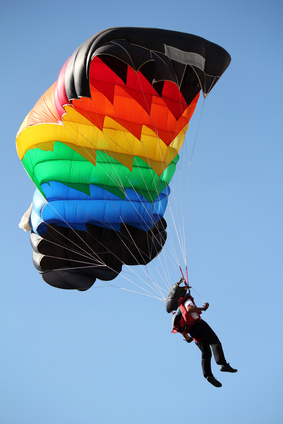 Check-out this compilation of sky-diving videos: www.youtube.com/watch?v=piiZ_d0SCc8
For full attribution and the full article at Wikipedia: bit.ly/M1Yevg
"Know skydiving, know life….. NO skydiving, NO life!" – Anonymous