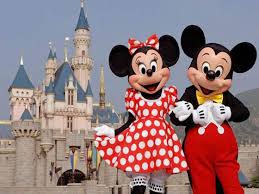 Some would say that much of what gets into our language is programmed by advertisers and corporations wanting to influence our thinking and buying habits. And we support them! Everyone has the opportunity to 'buy-in' or not buy what is presented as part of our culture.
No doubt the people at Disney have done and continue to do an excellent job of delivering the good times and family entertainment which is what they famously represent in their advertising.
Disney is responsible for bringing us the ultimate in story classics from our early years with their cartoon and real life characters on TV as well as the theme parks, boat cruises and other retail endeavors to part money from our wallets with mutual joy!
As time goes on the definition of happiness in life can take on other forms of more simplistic joy. Some might say that the happiest place on earth could be that tropical spot in the sun at somewhere unknown and new to discover.
Others might say that the happiest place on earth is at home, where all the comforts of your life are in easy access.
The only problem is you are never there, you are out working, sitting in traffic jams, commuting or other wise not always getting the chance to be the Queen and/or King of your castle.
Sometimes is fun to travel. Sometimes there's no place like home! Anyway, I believe most people can get the Disney Channel at home on Cable TV…