New to the Chinook Mall in Calgary, the two-level flagship Topshop and Topman store is almost 15,000 square feet and carries all of the trendiest looks straight from the runaways and the streets of London. The store is conveniently arranged by trend so you can decide if you're feeling British grunge or ladylike chic and if you need help deciding, book a personal shopping appointment and leave it to the pros, old boy, er young girl… So now your men out west there can come in off the range, jump out of the saddle and get suited up to your Sunday best by a sartorialist at the Topman – shop for men. Hot diggity dog, with a nice suit, a little spit, some shine on his shoes and you got a yourself a handsome dancing pardner!
Word is they have a mind-numbingly massive shoe section, give it a look and try on a Chelsea boot, the brand's signature shoe for the season.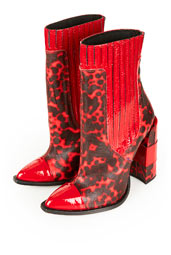 See more boots: http://bit.ly/HRDLbe
London's high street fashions transported to Calgary's international shopping fashionistas!
Get on your boots!