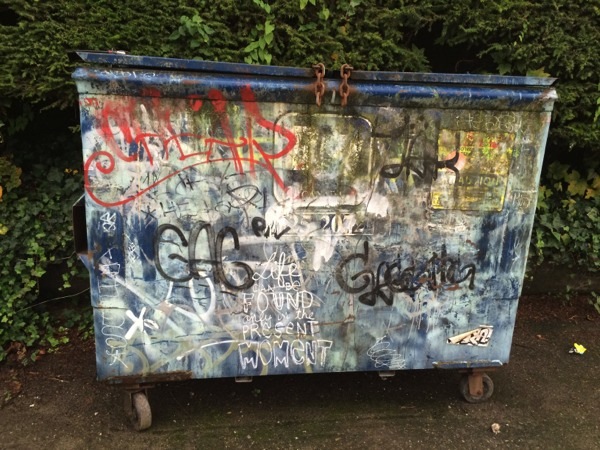 Sometimes we can find inspiration in the strangest places…
This dumpster could be in the right place at the right time to change someone's thinking, or it could be a mess to be ignored as pedestrians power by the message unaware.
To live in the present moment is an acquired skill in the art mental clarity. We have too many distractions going on all around us all the time to pay attention to much on anything for more than about 8 seconds. (Last year the Goldfish nudged ahead of humans with having greater powers of concentration) Don't think about it for too long!
Just getting past the noise in your head to think clearly about now is sometimes not as easy as it sounds. This is another of the health benefits coming to us through Eastern culture with art forms of yoga and meditation helping people calm down, stretch, relax and gain mental tools to add focus on the crazy expectations of living urban life.
The trick to breaking free is to not think about it too much.
Getting past the first 8 seconds and calming yourself requires patience. This is another key to unlock living in the present moment. Sometimes we can get carried away with too much future planning. Constantly we are thinking ahead, planning multiple outcomes of things which may or may not happen, sometimes we do this with detail that isn't necessary at the level of where we are today as opposed to the future. We do need to do this virtual situational analysis in order to help us prepare and ultimately remove road blocks, prepare a plan of action and having learning from previous history we are positioning ourselves for having success in the future moments of our lives.
The art of living; to be, or not to be…
We all seek peace, happiness and contentment. It's so inside us that our mind and body both enjoy and will naturally respond to the 'Ying of quiet against the clang of Yang' in our daily thinking. It helps to make it a habit, this is what really makes it happen. Continuing to build your strength by way of practice and perseverance is perfect plan to grow your craft and excel in the art of good living.
Life is an incredible canvas, if you can choose how to paint your picture, try do it with inspiration found in the present moment – it's a better world view 🙂