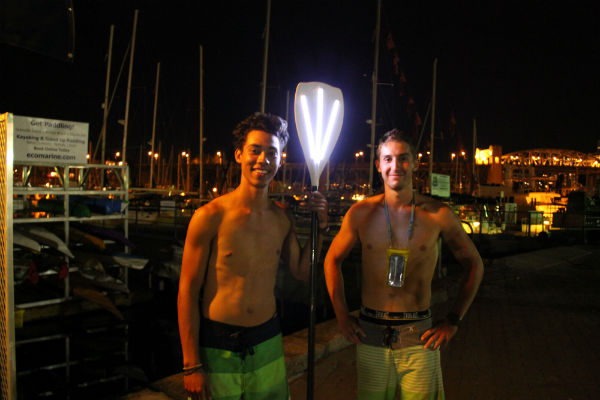 Let the Paddle FORCE be with You!
A brand new underwater lighting technology recently introduced to Vancouver now makes it safe to go out on the water at night for Kayaks and Stand Up Paddle boarding. What'SUP on Wednesdays? Read on for deal below…
See the Vancouver skyline in a whole new way and get the pictures on you phone to prove it!
A totally unique and totally exclusive experience for night scene from Vancouver Water Adventures — on the Water.
Light The Night tours leave every Friday and Saturday night and last about one and a half hours. This is a great way to get out and relax with some fun on the water from just before sunset into the night time sky over the city.
Watch the sun go down and continue to putt-along paddling as your Kayak or SUP lights up the water around you.
Quickly becoming one of the most popular SUP and Kayak tours in town, this guided tour is perfect for kicking back with fresh air after a long day, impressing out-of-town guests, or just a chance to re-discover the stunning wildlife and beauty as nature meets urban landscape in Vancouver at Night – on the Water!
Special priced tours for Spenditos go out on Wednesdays Nights: Save $15.00 per person with the deal ticket here
Then, afterwards, after your Vancouver Water Adventures tour – go to the the Big Rock Urban with this $10.00 deal ticket. It's good for late night snacks from 10 p.m. to midnight. Or, skip the water and go for the food & beer 🙂
(Do the Light the Night Tour, go from Granville Island to Science World, and eat a Late Night Snack = Save $25.00)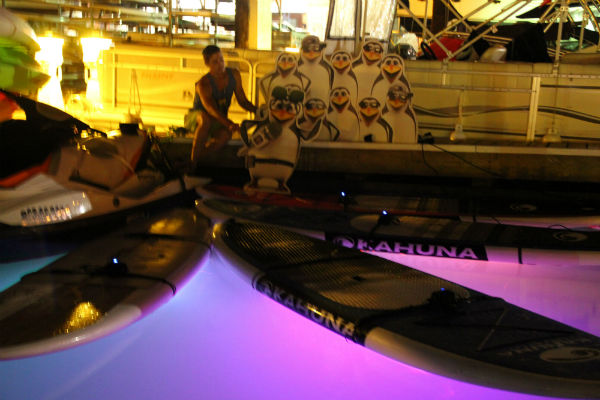 The Spendito Penguinos loved this night tour and recommend that Everybirdy else should do it too!