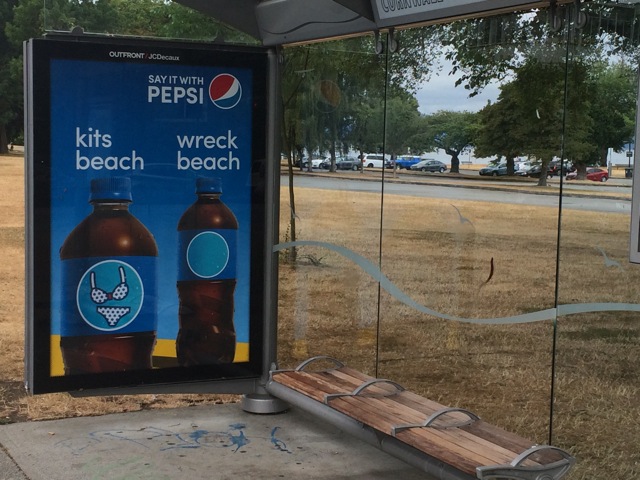 Big brand fails: "Say it with Pepsi?"
What anyone would be saying with Pepsi is confusing to me. It is rare I let a beverage do my talking or be important to how I might want to represent myself (with or without clothing) by the brand of my beverage.
To start, I think Pepsi has a very weak creative strategy and poor message execution in this billboard.
Located near Cornwall and Arbutus Streets, what is this Pepsi sign telling us? That clothing is optional at wreak beach?
Great, thanks for letting us locals know the obvious we've always known. OK, so now we all know? Do congratulations go to Pepsi, or what?
Or, is the message that you are fat and need to cover up if you decide to go to Kits Beach. Fat Bottle vs. Skinny Bottle.
It has always been a strange battle for market domination and our absolute choice and loyalty to only one cola.
Less calories, more taste? Coke (the real thing) versus Pepsi (the number two).
Their global retail marketing control and many other sticky Cola issues, such as producing high sugar drinks and diet pop versions with weird chemical names. We are so lucky we have such good water quality in Vancouver that we don't have to worry about trying to understand Pepsi.
Next time, Pepsi, don't waste everyone's space and let us make our own association with beach fashion and beverage combos.
At this point, the only thing I will be saying with Pepsi is good-bye!