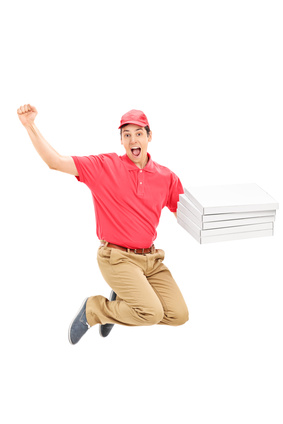 After a change discrepancy left a pizza delivery man without a tip, the Internet raised more than $20,000.
A video, which Boston.com reports was originally uploaded to YouTube with the title "Irate pizza driver," shows an awkward interaction between Jarrid Tansey, a pizza delivery driver for Palace Pizza, and a few employees at F&R Auto Sales, both located in Westport, Mass.
<iframe width="950″ height="535″ src="//www.youtube.com/embed/sxdsfNo-mC0?list=viral%20videos" frameborder="0″ allowfullscreen></iframe>
The clip shows Tansey returning to the dealership and handing over money that he thought was a tip for an order delivered earlier. "It just doesn't make sense why you'd hand me a bill that you were just gonna have me drive back here to give you back anyway," Tansey says in the video.
Apparently, the car dealership placed an order that totaled just over $42 and paid Tansey with two $20 bills and two $5 bills for a total of $50. Tansey then left, assuming the remaining $7-and-change was a tip.
But there was a misunderstanding and the dealership wanted change, so they called Palace Pizza and forced Tansey to return the money.
At first, Tansey and the employees of the dealership argued civilly about what happened. It seems like the issue was a simple miscommunication, but just before he leaves, Tansey explains, "I'm not mad, I just had to waste my resources coming back here."
After that statement, the dealership employees start to get angry at Tansey, and one even threatens him by saying "Hey, out the door before I put my foot in your ass, how's that one?" Another person asks to "get the f*cking owner and manager on the phone, I want that motherf*cker gone. I want him fired."
An employee at F&R Auto then called Palace Pizza to complain, claiming he "verbally berated" them. However, Adam Willoughby, a manager at Palace Pizza explained to Boston.com that this isn't the first time they've had a problem with the dealership.
So Tansey left without a tip that night, but after the news broke, a woman named Amanda Marie Rogers set up a GoFundMe page titled "Get Jarrid his tip money!," which has raised more than $20,000 at the time of writing.
IMAGE: SCREENSHOT, GOFUNDME
"I believe Jarrid should be rewarded for dealing with such crappy people," Rogers wrote on the page. "Even if it is $1, it will make up (maybe a little) for him having to deal with idiots like this."
Although the owner of the dealership personally apologized on Wednesday, F&R Auto has been flooded with negative feedback on Google, Yelp and other social media sites. Their Facebook page has since been taken down, but has been replaced with parody accounts.
Basically, the Internet does not like when you mess with the pizza guy.
Original Story at: http://mashable.com/people/briankoerber/