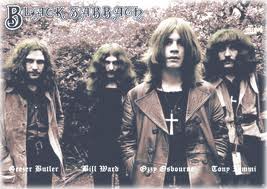 Remember the days when everyone used to wear Jean Jackets and listen to 8-Tracks & Cassettes?
The CBC is so awesome for so many reasons, especially the unexpected gems they dig up! Recently, I happened to stumble across this random story and link offering a look at an old Eaton's Department Store Catalogue. You'll get a laugh if you happened to be around in those early days when 1970's Rock & Roll began to rule the world.
This is when Rock was, 'it' – just starting to take over the cultural images and future directions of the fashion scene. It became the hair, the bell bottoms, the booze and of course the drugs and stories of the exorbitant substance abuse! As well as the music, this new cultural 'it' factor become a major driver in lifestyle influences of the time. Some of those iconic drivers included; Jimi Hendrix, Led Zepplin, Black Sabbath as well as many others.
Now, contrast all this and take a quick detour to look at the Eaton's catalogue which provided average Canadian families the 'hip' but conservative choices in consumerism of the day.
Musical-highlights-of-the-1975-Eatons-catalogue
It's funny to think about how much music equipment has changed from the lumpy analog (vinyl / tape) days to the fast moving world of digital. Now everything is in your phone. Back in the 1970's people still shared phones on a "party line," you'd have to listen to make sure one of your neighbours wasn't already talking on the phone before you could get a dial tone and make your own phone call.
Do you remember Paranoid, Crazy Train and other hits from Black Sabbath and Ozzie that rocked the reality of religious world. It wasn't so much their music, but they totally messed up the church! With their long hair, dressed in black and wearing crucifixes (while chewing on frozen bat heads) they were playing the "devils music" to young children at their concerts in the name of Lucifer. All of which many of those in the church took much too seriously! This purposefully created publicity circus helped hype the 'mayhem' and really got things of to a good start for the birth of Metal, many hated it. This didn't dim the prospects as era of Heavy Metal launched and landed their moon shot in the early 1970s with the release of the second Black Sabbath Album.
This is when the underbelly of the real and tragic side of some artists in the music business became apparent. Sadly, by accident or design, the openly excessive lifestyle of Black Sabbath including extreme substance abuse issues has always a large part of the story in their legacy. Here's their (edited) back story from Wikipedia.
The band's first show as Black Sabbath was on 30 August 1969, in Workington. They were signed to Philips Records in November 1969, and released their first single, "Evil Woman" (a cover of a song by the band Crow) through Philips subsidiary Fontana Records in January 1970 at Trident Studios. Later releases were handled by Philips' newly formed progressive rock label, Vertigo Records. Black Sabbath's first major exposure came when the band appeared on John Peel's Top Gear radio show in 1969, performing "Black Sabbath", "NIB", "Behind the Wall of Sleep", and "Sleeping Village" to a national audience in Great Britain shortly before recording of their first album commenced. Although the "Evil Woman" single failed to chart, the band were afforded two days of studio time in November to record their debut album with producer Rodger Bain. Iommi recalls recording live: "We thought 'We have two days to do it and one of the days is mixing.' So we played live. Ozzy was singing at the same time, we just put him in a separate booth and off we went. We never had a second run of most of the stuff."
Black Sabbath was released on Friday the 13th, February 1970, and reached number 8 in the UK Albums Chart. Following its US and Canadian release in May 1970 by Warner Bros. Records, the album reached number 23 on the Billboard 200, where it remained for over a year. The album was a commercial success but was widely panned by some critics. Lester Bangs dismissed it in a Rolling Stone review as "discordant jams with bass and guitar reeling like velocitised speedfreaks all over each other's musical perimeters, yet never quite finding synch". It sold in substantial numbers despite being panned, giving the band their first mainstream exposure. It has since been certified platinum in both US by the Recording Industry Association of America (RIAA) and in the UK by British Phonographic Industry (BPI).
According to Allmusic's Steve Huey, the album was "the birth of heavy metal as we now know it". Huey noted that the album "transcends its clear roots in blues-rock and psychedelia to become something more". The songs on the album's first half feature simple blues licks by Iommi and deal with themes characteristic of heavy metal, including evil, paganism, and the occult. Most of the second half has blues-rock jamming.  Former Metal Maniacs magazine editor Jeff Wagner credited the album for making a distinction between rock and roll and heavy metal. He said that the album transfigured blues rock into "something uglier, found deeper gravity via mournful singing and a sinister rhythmic pulse". Sputnikmusic's Mike Stagno observed that Black Sabbath combined elements of rock, jazz and blues, with heavy distortion to create one of the most influential albums in metal history.
Musically and lyrically the album was considered quite "dark" for the time. The first song on the album is based almost entirely on a tritone interval played at slow tempo on the electric guitar. The song's lyrics concern a "figure in black" which bass player Geezer Butler claims to have seen after waking up from a nightmare.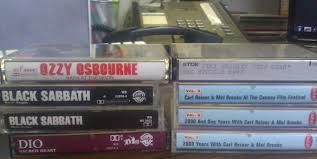 Crazy Train was the first single Ozzy Osbourne released after leaving Black Sabbath in 1978. He left the band after a particularly heated dispute with guitarist Tony Iommi, at which time Ozzy was painted as a substance-abusing layabout by his former bandmates. "Crazy Train" was a triumph for Ozzy in that he proved that he could succeed outside of the Sabbath shelter, albeit with lots of help.
Osbourne got his riffs from Randy Rhoads and his lyrics from Bob Daisley on Blizzard of Ozz, which was formed as a band, not a solo effort. The trio wrote the songs together, later adding drummer Lee Kerslake to complete the band. Their label, Jet Records (owned by Don Arden, Ozzy's future father-in-law), made the project look like a solo effort by putting Ozzy alone on the album cover and his name in big letters on top of the words "Blizzard of Ozz." The "Crazy Train" single had the band name in large print with Ozzy's name above it. This was as close as they would get to being billed as a band on their releases, even though promotional photos and reviews from the time show that Blizzard of Ozz was supposed to be the band name.
This appropriation was a sticking point for Rhoads, Daisley and Kerslake, but they stayed with Ozzy for his next album, Diary of a Madman, which when issued in 1981 was not just listed as an Ozzy solo album, but listed Rudy Sarzo and Tommy Aldridge on bass and drums instead of Daisley and Kerslake. Legal entanglement followed, and Rhoads died in 1982. In the end, Osbourne's post-Sabbath output was disproportionately attributed to Ozzy, and "Crazy Train" is generally considered his first solo single.
To capitalize on their chart success in the US, the band returned to the studio in June 1970, just four months after Black Sabbath was released. The new album was initially set to be named War Pigs after the song "War Pigs", which was critical of the Vietnam War; however, Warner changed the title of the album to Paranoid. The album's lead-off single, "Paranoid", was written in the studio at the last minute. Ward explains: "We didn't have enough songs for the album, and Tony just played the [Paranoid] guitar lick and that was it. It took twenty, twenty-five minutes from top to bottom." The single was released in September 1970 and reached number four on the UK charts, remaining Black Sabbath's only top ten hit. The album followed in the UK in October 1970, where, pushed by the success of the "Paranoid" single, it made number one in the charts.
The US release was held off until January 1971, as the Black Sabbath album was still on the charts at the time of Paranoid's UK release. Black Sabbath subsequently toured America for the first time and played their first US show at a club called Ungano's at 210 West 70th Street in New York City. The album reached No. 12 in the US in March 1971, and would go on to sell four million copies in the US, with virtually no radio airplay. Like Black Sabbath, the album was panned by rock critics of the era, but modern-day reviewers such as AllMusic's Steve Huey cite Paranoid as "one of the greatest and most influential heavy metal albums of all time", which "defined the sound and style of heavy metal more than any other record in rock history." The album was ranked at No. 131 on Rolling Stone magazine's list of The 500 Greatest Albums of All Time. Paranoid's chart success allowed the band to tour the US for the first time in October 1970, which spawned the release of the album's second single "Iron Man". Although the single failed to reach the top 40, "Iron Man" remains one of Black Sabbath's most popular songs, as well as the band's highest charting US single until 1998's "Psycho Man."
Editor: History is always interesting because it would be hard to imagine stories like this happening according to any preconceived plan. The unlikely birth of Heavy Metal has opened the genre to many new forms, such as Black Metal, Speed Metal, Thrash Metal, Fruitcake Metal? and many other varieties. Maybe you're cooking up a batch of some new hot metal sounds in the kitchen right now. Rock On!