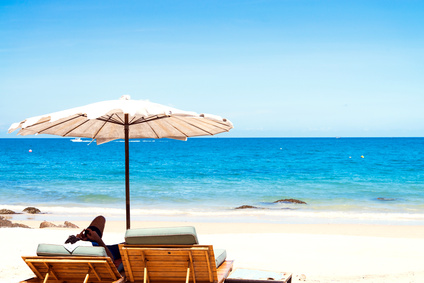 How long is it safe to stay outside? Can your skin take a burn? It is risky out there…
Maybe you're better off just staying inside? Don't worry about sun block and forget the travel insurance!
We're not talking outdoors versus indoors on holidays here, nope this vacation should all be in your head – literally.
Headspace, mindfulness, meditation and all other stimuli directed to the mind (inside the brain most of us have in our heads) is avoided, cut-out, peace and quiet has become the new frontier. For those who dare?
Forget the fear of missing out (FOMO). In 2014 the trend watchers at JWT predict that the joy of missing out (JOMO) will become a mainstream trend. Taking the opt-out option on life… how nice, how convenient?
Just Do It, getting with the beat, being ready-to-go and spontaneity has supposedly been sidelined and is now taking a pass in favor of moving to "mindful living." Someone should tell Eckhart Tolle!  This report on the future in 2014 also says we as consumers are actively trying to shut out the noise and distractions to focus on the moment. NO KIDDING!
How could an advertising company suddenly become so insightful? Has anyone heard the word 'pitch-slapped?' We are constantly bombarded by advertising and promotional messages of all types, these days it's becoming harder to separate the signal from the noise to really understand the truth about products and services.
Really this trend like yoga has grown quietly over the years and has spawned many ways to help us cope with the increasing stress caused by everyday living, constant poisoning by our news media and the 24/7/365 connected always-on world we choose to live in.
The following is the full list of trends to expect in 2014. Some might question that one or two trends might oppose each other but such is our future. Always look both ways before moving ahead, the future comes out of nowhere!
● Immersive Experiences
● Do You Speak Visual?
● The Age of Impatience
● Mobile As a Gateway to Opportunity
● Telepathic Technology
● The End of Anonymity
● Raging Against the Machine
● Remixing Tradition
● Proudly Imperfect
● Mindful Living

Peace-of-mind with carefree laid-back moments in life can be hard to find. Unless you manage your time in such a way you can have 'Mindful Moments,' you will not appreciate the difference it can make to have a mini get-a-way every now and then..  you will never appreciate how awesome it can be unless you Just Do It!
If you can't be there in person, you can be there in mind. Sit back, relax, calm your breathing and try to think about a place and time on vacation where you felt so chilled-out, refreshed, renewed and secure about life, then just keep thinking about that place and feel the 'encore performance' of that experience in your mind. If you do something like this and make it a practice you will be surprised at how it can relieve and release some of the tension you may feel about not being able to take the real holiday… Do it Now! Take a one-minute-meditation / vacation in your mind. It costs way less and there's no line-ups or waiting – anywhere!
Read more: http://www.jwtintelligence.com/shop/10-trends-2014/#ixzz2rU4ncRFL
Follow us: @jwtintelligence on Twitter