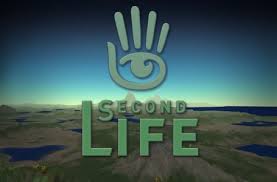 Second life is a virtual world where the players (programmers mainly + other people) create objects to buy, sell and trade using 'Lindens' the in-world currency that supports commerce. People playing the game can buy and sell their Lindens for real money! If you're wondering where the name came from, Linden is the name of a suburb near Seattle, Washington.
One thing you might be surprised about is that Second Life turned 10 in 2013. Ten years is a long time when you measure it in Internet years. This equates to about half the history of the Internet this virtual world has grown, shrunk and grew again but never died.
There is even a movie called Life 2.0 which mixes real life and Second Life people and personas. Some folks might find it hard to believe that some people prefer not to appear human-like in their virtual life-forms, as an example one middle-aged male 'lives' in the Second Life as a teenage girl (and his real wife is concerned but not leaving him yet?) and this is his gig for many hours of the leisure time he has to spend in life. From what the movie shows, Second Life almost appears as an addiction with most people spending more time in the virtual world than in the real world. This would / will make for some interesting psychological studies and reports in future years?
Here's what Wikipedia has to say:  Second Life is an online virtual world developed by Linden Lab. It was launched on June 23, 2003. A number of free client programs, or Viewers, enable Second Life users to interact with each other through avatars (also called Residents). Residents can explore the world (known as the grid), meet other residents, socialize, participate in individual and group activities, and create and trade virtual property and services with one another. Second Life is intended for people aged 16 and over, with the exception of 13-15 year old users restricted to the Second Life-region of a sponsoring institution (e.g. school).

Built into the software is a three-dimensional modeling tool based on simple geometric shapes that allows residents to build virtual objects. There is also a procedural scripting language, Linden Scripting Language, which can be used to add interactivity to objects.Sculpted prims (sculpties), mesh, textures for clothing or other objects, animations, and gestures can be created using external software and imported. The Second Life terms of service provide that users retain copyright for any content they create, and the server and client provide simple digital rights management functions. However, Linden Lab changed their terms of service in August 2013, to be able to use user-generated content for any purpose. The new terms of service prevents you from using 3rd-party textures from some specific texture services as these have pointed out explicitly
10th anniversary
June 2013 marked Second Life's 10th anniversary where users held parties, dances, live music, DJ events and celebrations. The SL10B community held the celebrations from June 16–29, 2013 with the main event on June 23, 2013, when Second Life celebrated its 10th anniversary. The event included exhibitions, performances, live music and more. In the welcome areas there were showcases including the Avatar Central, History Walk and the time capsules. There was also Bear Island on the east side of the map and the Corn Field on the west side of the map. There was free gear and apparel at the vendors throughout the area. There were special limited items on the Second Life Marketplace that coincided with SL10B, including a special SL10B avatar. On June 3, 2013, a Youtube video was uploaded of an interview featuring Rod Humble, CEO of Linden Lab. There were also events and parties held elsewhere on the Second Life grid. Over the last 10 years, 36 million accounts were created, US$3.6 billion was spent on virtual assets and the equivalent total time users spent on SL is 217,266 years. Today, more than 1 million people visit Second Life monthly. Games, events and Adventure/fantasty dominate the Destination guide. An average of about 400,000 new registrations are created monthly, 1.2 million daily transactions were conducted for virtual assets. 2.1 million user-created virtual assets are for sale, with the most purchased are women's hairstyles, and Second Life landmass is nearly 700 square miles (slightly over 1810 square kilometres)
Premium membership allows the Resident to own land, with the first 512 m² (of main land owned by a holder of a Premium account) free of the usual monthly land use fee (referred to by residents as tier, because it is charged in tiers). There is no upper limit on tier; at the highest level, the user pays US$295 for their first 65,536 m². Any land must first be purchased from either Linden Lab or a private seller.
There are four types of land regions; mainland, private region, homestead, and openspace. A region comprises an area of 65,536 m2 (16.194 acres) in area, being 256 meters on each side. Mainland regions form one continuous land mass, while private regions are islands. Openspace regions may be either mainland or private, but have lower prim limits and traffic use levels than mainland regions. The owners of a private region enjoy access to some additional controls that are not available to mainland owners; for example, they have a greater ability to alter the shape of the land. Residents must own a region (either mainland or private) to qualify for purchasing an openspace region.
Linden Lab usually sells only complete 65,536 m2 (16.194 acres) regions at auction (although smaller parcels are auctioned on occasion, typically land parcels abandoned by users who have left). Once Residents buy land they may resell it freely and use it for any purpose that it is not prohibited by the Second Life terms of service.
Residents may also choose to purchase, or rent, land from another Resident (a Resident landlord) rather than from Linden Lab. On a private region, the built-in land selling controls allow the landlord to sell land in the region to another Resident while still retaining some control. Residents purchasing, or renting, land from any other party than Linden Lab are not required to hold a Premium membership nor to necessarily pay a tier fee, although typically the landlord will require some form of upfront or monthly fee to compensate them for their liability to pay the land use fee charged by Linden Lab. However Linden Lab acknowledges only the landlord as the owner of the land, and will not intervene in disputes between Residents. This means, for example, that a landlord can withdraw a Resident's land from availability, without refunding their money, and Linden Lab will not arbitrate in the dispute unless it is a clear-cut matter of 'land fraud'. Users can report such matters to Linden Lab if they occur and they will look into it.
Economy
Second Life has an internal economy and internal currency, the Linden dollar (L$). L$ can be used to buy, sell, rent or trade land or goods and services with other users. Virtual goods include buildings, vehicles, devices of all kinds, animations, clothing, skin, hair, jewelry, flora and fauna, and works of art. Services include "camping", wage labor, business management, entertainment, and custom content creation (which can be broken up into the following six categories: building, texturing, scripting, animating, art direction, and the position of producer/project funder). L$ can be purchased using US dollars and other currencies on the LindeX exchange provided by Linden Lab, independent brokers or other resident users. Money obtained from currency sales is most commonly used to pay Second Life's own subscription and tier fees; only a relatively small number of users earn large amounts of money from the world. According to figures published by Linden Lab, about 64,000 users made a profit in Second Life in February 2009, of whom 38,524 made less than US$10, while 233 made more than US$5000. Profits are derived from selling virtual goods, renting land, and a broad range of services.
The "Linden" can be exchanged for US dollars or other currencies on market-based currency exchanges. Linden Lab reports that the Second Life economy generated US$3,596,674 in economic activity during the month of September 2005, and as of September 2006 Second Life was reported to have a GDP of $64 Million. In 2009, the total size of the Second Life economy grew 65% to US$567 million, about 25% of the entire U.S. virtual goods market. Gross resident earnings are US$55 million in 2009 – 11% growth over 2008. In March 2009, it was revealed that there existed a few Second Life entrepreneurs who had grossed in excess of US$1 million per year, most notably Ailin Graef, who is more well known as her avatar, Anshe Chung.

Criticism and controversy
Regulation
In the past, large portions of the Second Life economy consisted of businesses that are now regulated or banned. Changes to Second Life's Terms of Service in this regard have largely had the purpose of bringing activity within Second Life into compliance with various international laws, even though the person running the business may be in full compliance with the law in their own country. Linden Lab offer no compensation for businesses that are damaged or destroyed by these rule changes, which can render significant expenditure or effort worthless.
On July 26, 2007, Linden Lab announced a ban on in-world gambling, in fear that new regulations on Internet gambling could affect Linden Lab if it was permitted to continue. The ban was immediately met with in-world protests.

In August 2007, a $750,000 in-world bank called Ginko Financial collapsed due to a bank run triggered by Linden Lab's ban on gambling, which halved the size of the Second Life economy. The aftershocks of this collapse caused severe liquidity problems for other virtual "banks", which critics had long asserted were scams. On Tuesday, January 8, 2008 Linden Lab announced the upcoming prohibition of payment of fixed interest on cash deposits in unregulated banking activities in-world. All banks without real-world charters closed or converted to virtual joint stock companies by January 22, 2008. After the ban, a few companies continue to offer non-interest bearing deposit accounts to residents, such as the e-commerce site XStreet, which had already adopted a zero-interest policy 3 months before the LL interest ban.
The challenges above would never have been encountered if Second Life did not exist. The battles, bears and bulls in any civilization run rampant without the rule of any real authority. Sex, Gambling, Illegal Hacking, Wars, Drugs, Religion all the usual suspects clash in this virtual world in a very real way, and then spills over into real life in many ways we are still learning about. You technically are not supposed to be in Second Life if you are a minor… but that's hard to manage on the Internet.
The Second Life is really the first time that virtual and reality have been mixed together for this period of time. Over the 10 years many Brand names have set up shop in the virtual world of Second Life. I wonder how their profits are working out? Maybe they have more jobs opening up in the virtual world?Maybe everyone should open up a virtual business and create virtual jobs! It might be easier than in the real world, you don't have to leave home to go to work… Hey, that doesn't sound bad, no virtual traffic jams!