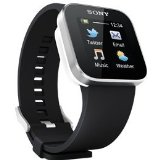 The Sony SmartWatch
The wristwatch was once a common gift item, but they started to disappear as people switched to using phones for their time pieces. But could the new smartwatches bring back this beloved wrist accessory? We looked at the latest crop of smartwatches and, while some are not quite ready for prime time, others provide a glimpse of what might be the next wave of must-have mobile tech.
Apparently 2013 was the year of the smartwatch. This is one of the lead items in the new wave of 'wearable' technology, coming soon to your body. This is a huge trend and 2014 will be the year for the Google Glass to start selling to mainstream consumers. So far Google and Android are the OS (operating system) brain of most smartwatches. Still waiting for Apple to get in the game? They say they're working on it…
The Sony SmartWatch is an elegant Android watch which keeps you discreetly updated and your hands free.  It features an easy to use, ultra responsive touch display. Finding your way around SmartWatch is super simple. Your world's just a tap, swipe or press away.
Want to do more with your SmartWatch? Download compatible applications on Google Play. And customize your SmartWatch to make it exclusively yours. Customize your SmartWatch with your own 20mm/0.8-Inch wristband. Or wear it using the stylish wristband included. You can even use it as a clip. This ultra thin Android remote was designed to impress. Compatibility: SmartWatch works beautifully with both Sony and non-Sony Android-based smartphones alike. Package includes: SmartWatch main unit with clip, Black watchband, Watchband adapter, USB charger, User guide + warranty leaflet.
Click to see more smartwatches on sale at Amazon
A smartwatch or smart watch, is a computerized wristwatch with functionality that is enhanced beyond timekeeping, and is often comparable to a personal digital assistant (PDA) device. While early models can perform basic tasks, such as calculations, translations, and game-playing, modern smartwatches are effectively wearable computers. Many smartwatches run mobile apps, while a smaller number of models run a mobile operating system and function as portable media players, offering playback of FM radio, audio, and video files to the user via a Bluetooth headset. Some smartphone models, (also called watch phones) feature full mobile phone capability, and can make or answer phone calls.

Such devices may include features such as a camera, accelerometer, thermometer, altimeter, barometer, compass, chronograph,calculator, cell phone, touch screen, GPS navigation, Map display, graphical display, speaker, scheduler, watch, SDcards that are recognized as a mass storage device by a computer, etc. and Rechargeable battery. It may communicate with a wireless headset, heads-up display, insulin pump, microphone, modem, or other devices.
Some have "sport watch" functionality as seen in GPS watches made for Training, Diving, and Outdoor sports. Functions may include training programs (such as intervals), Lap times, speed display, GPS tracking unit, Route tracking, dive computer, Heart rate monitorcompatibility, Cadence sensor compatibility, and compatibility with sport transitions (as in triathlons).
Like other computers, a smartwatch may collect information from internal or external sensors. It may control, or retrieve data from, other instruments or computers. It may support wireless technologies like Bluetooth, Wi-Fi, and GPS. However, it is possible a "wristwatch computer" may just serve as a front end for a remote system, as in the case of watches utilizing cellular technology or Wi-Fi.
One thing is for sure, Dick Tracey would be envious! His wrist watch now looks more like a walkie-talkie when compared to the smartwatches of today.