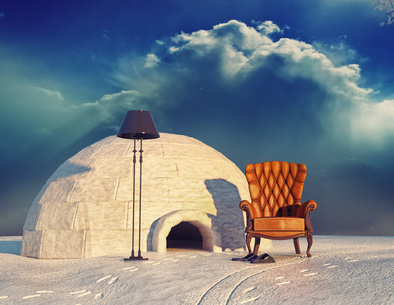 We must all be grateful for our home, apartment, condo or igloo!
We are all creatures that share the energy of this universe together. It is important to have respect for ones' home and the homes of others. Our hearts are in our homes and we express what is important to ourselves in the way we decorate or keep up our home's appearances. For some it's a way to show off, with large properties and homes with many empty rooms the population density is low but the cost is high. Mansions are an obsession for those who need the vanity, just like having the biggest boat, or fastest car (for city driving) these are nice but obviously not necessary to having a happy home.
Wikipedia states that a Home is a dwelling used as a permanent or semi-permanent residence for an individual, family, household or several families in a tribe. It is often ahouse, apartment, or other building, or alternatively a mobile home, houseboat, yurt or any other portable shelter (igloo=;)
Larger groups may live in a nursing home, children's home, convent or any similar institution. A homestead also includes agricultural land and facilities for domesticated animals. Where more secure dwellings are not available, people may live in the informal and sometimes illegal shacks found in slums and shanty towns. More generally, "home" may be considered to be a geographic area, such as a town, village, suburb, city, or country.
Transitory accommodation, such as a hospital, prison, boarding school, college or university is not normally considered permanent enough to replace a more stable location as 'home'. In 2005, some 100 million people worldwide were estimated to be homeless, although some prefer the term 'houseless' or 'unsheltered'.
A home is generally a place that is close to the heart of the owner, and can become a prized possession. It has been argued that psychologically "The strongest sense of home commonly coincides geographically with a dwelling. Usually the sense of home attenuates as one moves away from that point, but it does not do so in a fixed or regular way." Since it can be said that humans are generally creatures of habit, the state of a person's home has been known to physiologically influence their behavior,emotions, and overall mental health. People may become homesick when they leave their home over an extended period of time. Places like homes can trigger self-reflection, thoughts about who someone is or used to be or who they might become. These types of reflections also occur in places where there is a collective historical identity, such as Gettysburg or Ground Zero.

Popular sayings include "a man's home is his castle", "there is no place like home", "to be at home", "home from home", "make yourself at home", "you can never go home again", "home is where the heart is" and "home is where you hang your hat".

The word "home" can be used for various types of residential community institutions in which people can live, such as nursing, retirement homes for seniors, foster homes, etc.[citation needed] Short-term accommodation in for example in a boarding school, prison, treatment facility, or while studying at a college of university is unlikely to be considered 'home'.[citation needed]
Homes may be lost in many ways, such as Natural Disasters. We all need that place to hang our hat and can feel the loss and sadness of others when fire, floods or other natural disasters take our homes away. It can be so strange that a forest fire or tornado can rage through a community and ravage most homes but leave some still standing and alone. For either those who lost their homes or those who are the survivors their nest was violated and it is personal. 

Be happy and take a minute or two to enjoy the space and comforts of the home you have, it is precious!