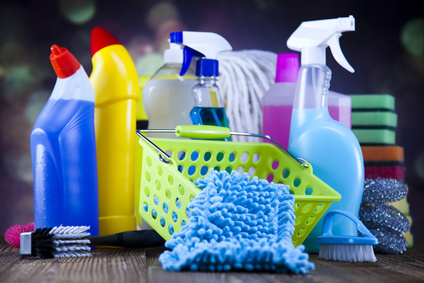 Every year starts off the same… How can I/we save money? The answers, as usual are everywhere – even under your nose! Just like New Year's resolutions and your new inspired 'white glove' approach to clean living, you can be spic and span as well as save a spot-o-cash by DIY.
Hordes of DIYers are jumping on the homemade-cleaner bandwagon and with good reason. "Being eco-friendly and frugal is always cool," said editor and founder of Toronto-based blog Pretty Frugal Living, Amrita Singh.
Singh, a producer by day and 'Head Frugalista' by night, likes to make her own cleaning supplies using ingredients she already has on-hand at home. Today she shares with us her "tried, tested (and awesome)" recipes for everything from air freshener to sink and shower cleaner. There are oodles of different recipes out there online but these are the creative concoctions she uses most often and that work best for her.
Before you get started, miss Pretty Frugal Living advises would-be home experimenters to use caution when mixing ingredients because some combinations can create and release toxic gases. "I like to stick with these basics because they have never caused any ill effects and they always produce results!"
If you're going to cheat and BUY instead of DIY, Singh's favourite all-purpose cleaner that she keeps on-hand at all times is the lovely smelling, all-natural variety by Mrs. Meyers available at Canadian Tire.
1. All-natural air spritz: $1
Ingredients: 1 Tbsp cheap vodka, 5 Tbsp water, 2-3 cloves, 5 drops essential oil (Singh's favourite is tea tree oil)
Frugalista Amrita Singh says to use this air freshener guilt-free and often! Combine the ingredients into a small spray bottle and spritz away!
Bonus: "Add a squeeze of lemon juice and you can also use this spritz as a 'Poo-Pourri' knock-off! No joke."
2. Sink/shower cleaner: $.05
Ingredients: Dish soap, sprinkling of baking soda
Squeeze a large dollop of dish soap onto a damp scratchy sponge. Sprinkle a bit of baking soda onto the sponge. Get to cleaning!
3. Window cleaner: $.50
Ingredients: 1 cup vinegar, 2 cups water
Pour into 750 ml spray bottle. Use a good quality lint-free towel and you're good to go.
4. Rug/mattress freshener: $.25
Ingredients: 1 cup baking soda, lemon and orange rind
Pour baking soda into a Parmesan cheese shaker. Add rind from one lemon and one orange. Store in fridge. Sprinkle on carpets before vacuuming. Sprinkle onto mattress and let sit for 30 minutes, then vacuum up. While being stored in the fridge it will absorb odours. Triple whammy!
Find more info and ideas at the website: http://bit.ly/1aW0OsY