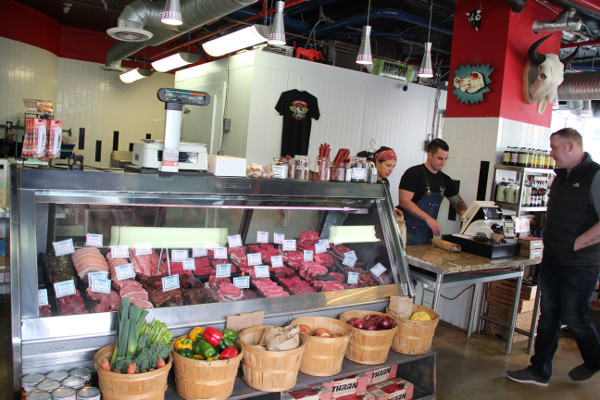 In 1998 Pete Larsen said goodbye to his hometown of Niagara on the Lake
(in Ontario) and came to live out West.
Arriving in Vancouver, Pete got his start as an apprentice with Windsor Meats. With a burgeoning new foodie scene opening up new opportunities in Vancouver, Pete decided it was time to start his own butcher shop. So in 2011, Pete's Meat, Butcher Shop & Deli opened at 12th and Arbutus in the Kitsilano neighbourhood on the west side of Vancouver.
Within the first year of business, Pete's Meats became established as the go-to-place for a wide variety of high-quality specialty meats and poultry all sourced from local farms and producers. As the word spread more and more people agreed that the best choices for free range, antibiotic and hormone free meats, poultry and deli products was at Pete's Meats.
If you need a leaner cut or prefer to choose from meats with a higher fat content, just ask Pete! Everything is sourced locally, then processed and packaged to your preferences on the premises. You will always find the usual favorites, plus a tasty selection of handmade seasonal sausages, smokies and specialty meats. If you don't see it – just ask… with a wide variety of local farm choices to source their products, Pete's Meat can fulfill both domestic and exotic meat requests. You can also order ahead on special occasions to get brined meats and poultry ready to cook, or be adventurous and try a Turducken for your dinner party. The Turducken is a traditional dish consisting of a deboned chicken stuffed into a deboned duck, further stuffed into a deboned turkey. Outside of the United States and Canada, it is known as a three bird roast.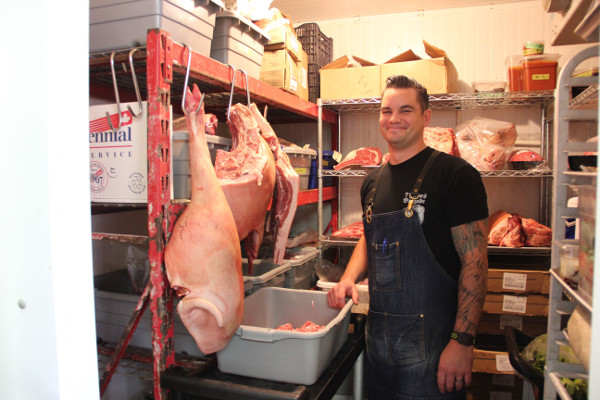 As the Head Butcher, Pete has a built a number of admirable practices into the ethics of how he runs his shop. First is the zero-waste policy for the business operations, nothing is wasted in the process of this butchery. If you're looking for soup stock, you'll be able to choose from bone, chicken or beef stock to get your homemade soups started right or try the Chicharron (Spanish) for crispily fried pork skins, also known as "Crackling" pork skins in British epicurean circles. And following old traditions in soap making Pete supplies tallow to make and sell a line a high quality handmade local soaps!
Little known facts about Pete's Meats: They have the city's largest selection of tonics, some flavoured, some imported, all the best tonic money can buy at reasonable prices. Check the Deli for tonics, spiced vinegars and other interesting libations and snacks to promote good health and pique up your appetite to enjoy even bigger delights at the dinner table.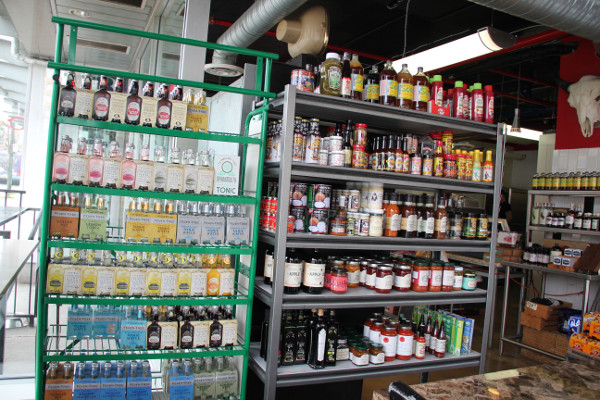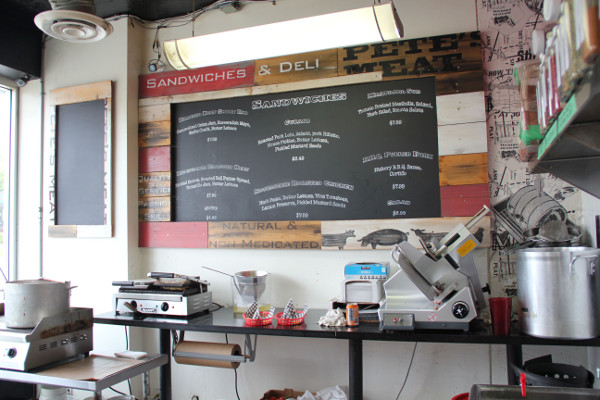 Best Value at Pete's Meats: The Deli Sandwiches are all under $9.00 and are made to order fresh in the shop every day. Choose from pulled pork, smoked meats and an interesting selection of sandwich choices and delicious homemade soups.
When you shop at Pete's Meats you will find local choices that make your taste buds rejoice!  
Pete's Meat is open 7 days a week from 10 am to 8 pm. Located on the south-west corner of 12th Ave West & Arbutus Street. Online ordering is also available.
Check out their website at www.petes-meat.com